Products & Services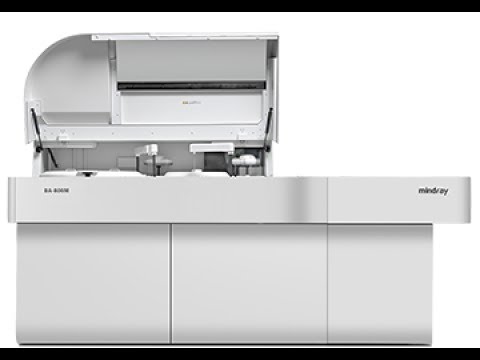 Click to Play
MedTest 800 Ensemble (ISE)
(Drugs of Abuse)
What makes the BA-800M analyzer different from the rest?
The BA-800M analyzer is truly unique compared to other analyzers in its class. What makes it stand out?
Largest Walk-Away Capacity - The BA-800M analyzer offers the Largest Number of Sample Positions:
 
440 on the BA-800M
580 on the BA-800M2
 
Most economical reagent consumption - The BA-800M analyzer has the Least Amount of Reagent Consumption - Minimum Reaction Volume is 100 µL.
Scalable - Add a 2nd BA-800M system, creating a BA-800M2, to increase sample and through-put capacity to meet growing testing volumes. The BA-800M2 has 2 analytical processers and one Sample Delivery Module.
Specialty Test Menu Capable - The BA-800M analyzer accommodates up to 4-reagent testing formats (example - Vitamin D assay)
Instrument Specifications

Menu

Consumables

Service & Support
Ordering Information

Catalog:

Description:

80-BA800M-ISE

BA-800M Analyzer with ISE

(One Year Warranty Included)

Onsite Installation and Initial Training Included

Benefits

CLINICAL VALUE

· Large Test Menu – Up to 4 reagent formats

· High Through-Put – Generate patient results faster

· STAT Function – Fast Lane for STAT Rack on SDM

· Reflexive Testing – Programmable to minimize wait time for results

· Serum Indices – Alerts to integrity of sample from hemolysis, icterus, or lipemia

· Sample Clot Detection and Reagent Bubble Detection

· Carryover Prevention = Confidence in Results

OPERATIONAL VALUE

· Scalable – Add a 2nd 800M system to increase sample and through-put capacity

· Sample Clot Detection and Reagent Bubble Detection

· Probe Collision Protection (vertical & horizontal) with auto-recovery function minimizes operator time

· Largest Number of Sample Positions – Operator doesn't need to feed samples as often

· Built-in backup should the SDM or sample carousel malfunction

· Auto-Dilute and Pre-Dilute Functions are programmable saving operator time

· Five color-coded racks to facilitate STAT, Routine, Calibrator, Control, and Re-Run samples

· 8-grade, double probe wash station = Thorough cuvette cleaning and drying

· Easy-to-use touch-button software

· Step-by-step instruction guide built into software

FINANCIAL VALUE

· Minimum Reaction Volume of 100 µL means less reagents used per test means lower cost per test and more tests per kit

· Durable Glass Cuvettes – Replace cuvettes less often

· Direct Solid Heating of Reaction Carousel – No consumable costs for heating oil's and no maintenance needed to unit

· Special Design of Reagent Bottles allows for less dead volume waste

· Prolonged life of Tungsten Lamp – Voltage is adjusted based on lamp status, so there is no need to replace as often

Specifications

System Function

Fully Automated, Modular, Discrete, Random Access

Analyzer capable of STAT, urine and homogeneous immunoassays

Throughput:

800 photometric tests/hour (1,200 with ISE)

Measuring Principles:

Absorbance Photometry, Turbidimetry

Methodology:

End-Point, Fixed-Time, Kinetic

Single/Dual/Triple/Quadruple Reagent Chemistries

Monochromatic/Bichromatic

Programming:

User defined profiles and calculation

ISE Module

Principle:

Indirect K+, Na+, Cl-

Sample Handling

Total Sample Capacity:

440 (140 positions on the Sample Tray and 300 positions on the Sample Delivery Module)

Sample Tray:

25 cooled positions for calibrators and controls

Sample Volume:

1.5~50.1 μl, step at 0.1 μl (22 μl for ISE)

Sample Probe:

Liquid Level Detection, Clot Detection, and Collision Protection

Reagent Handling

Reagent Tray:

120 positions

Reagent Volume:

15~300 μl, step at 0.5 μl

Reagent Probe:

Liquid Level Detection, Bubble Detection, and Collision Protection

Reaction System

Reaction Volume:

100~360 μl

Operating Temperature:

37° C

Temperature Fluctuation:

± 0.1° C

Optical System

Light Source:

Halogen-Tungsten Lamp

Photometer:

Reversed Optics, Grating Photometry

Wavelength:

340nm, 380nm, 412nm, 450nm, 505nm, 546nm, 570nm, 605nm, 660nm, 700nm, 740nm, 800nm

Absorbance Range:

0~3.4 Abs (10mm conversion)

Barcode and Data Transmission

Codabar, ITF (Interleaved Two of Five), Code128, Code39, UPC/EAN, Code93

Bi-Directional LIS Interface Transmission

Control and Calibration

Calibration Mode:

Linear (one-point, two-point and multipoint)

Logit-Log 4P, Logit-Log 5P, Spline, Exponential

Polynomial, Parabola

Control Rules:

Westgard Multi-Rule, Levy-Jennings, Twin Plot

Operation Unit

Operating System:

Windows® XP/Professional / Home SP2 or above, Windows® 7, Windows® 8

Working Conditions

Dimension:

40in x 47in x 91in (D x H x L)

Weight:

1,430 lbs
Consumables List
This item has no related products